Rancho Cucamonga is breaking new ground by aspiring to run California's first city-run no kill animal shelter. To attain this goal, an all-new administration is being hired and the position of Animal Services Director is open for grabs.
Director of No Kill NOW said, "This presents a unique opportunity for interested individuals to become an important part of the national No-Kill effort. Nathan Winograd achieved world-wide acclaim as former director of a similar New York facility after he converted it into a no-kill shelter. There's no reason why our director can't do the same. The City has set its sites on becoming a no-kill model for municipalities across the nation. It is formulating a blueprint for converting a 'catch and kill' pound into a safe haven which provides homes for adoptable animals. We are fortunate to have a progressive City Manager and City Council who recognize the time has come."

There will be a new staff, new protocols and new procedures. The incoming director will assist not only with the transition but wi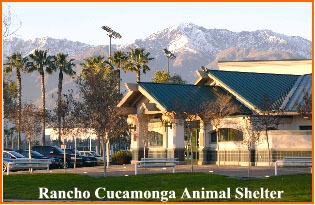 ll be involved in hiring his or her own staff. Winograd, hired as a no-kill consultant, will be available to offer guidance both during and after the transition.

San Bernardino County previously held the contract to run the City's shelter and animal control services ever since the shelter opened in 1996. However recent complaints about unnecessary deaths, lack of veterinary care and poor customer service prompted a petition signed by residents asking for an administration change. An investigation spearheaded by City Manager, Jack Lam, led to a unanimous vote by the City Council to run its own shelter and animal control services. The City takes in approximately 6,000 dogs and cats per year.

Details of the director position are outlined in a brochure.

There is flexibility in the requirements and all interested individuals are encouraged to apply. For example, the Deputy Assistant Managersaid "While the suggested requirement is 8 years experience, it need not be limited to shelter work. Individuals with a background in related fields like veterinary medicine, public health or public services are welcome. Furthermore, there is some leeway in the educational prerequisite. For example, a degree in business administration, political science or social services would be acceptable."
The No Kill NOW director added, "Rancho Cucamonga is revered as one of the safest and most family-oriented communities in the country. The modern shelter building is set against a backdrop of majestic mountain views. The many brand new homes, top-rated schools, 23 well-maintained parks, convenient freeways and spectacular shopping malls make this city an ideal magnet for relocation. And Southern California offers an array of attractions including breathtaking beaches, desert retreats, renown ski resorts and Los Angeles, Disneyland and Hollywood."
An executive search team has been hired to assist the City in filling this position. Applicants should contact Jennifer Nitrio at (916) 784-9080. Resumes may be faxed to (916) 784-1985 or emailed to apply@bobmurrayassoc.com. The application deadline has been extended to January 12, 2006 at 5:00 p.m..

You can also contact Nathan Winograd at (949) 276-6942 or by fax at (949) 276-6943.