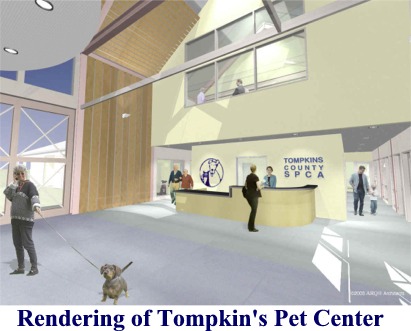 Tomkins County SPCA in New York became renown as the first open-door animal control facility in the United States to claim it ended the killing of all adoptable and treatable impounded animals.
Former director, Nathan Winograd, stated that within two years (starting June, 2001), the organization went from a shelter that was killing 100% of feral cats to killing none , that was killing healthy dogs and cats to killing none , that was killing treatable sick/injured dogs and cats to killing none and that reduced the death rate by 75%
In those same two years, he stated that the TC SPCA increased the animals spayed/neutered before adoption from 10% to 100% , the number of volunteers from a dozen to 181 and the number of animals fostered from a handful to close to 800 per year.
Furthermore, during that period, the SPCA claimed to have reduced its expenses by approximately $150,000 per year, reduced the number of employees from 16 to 12 , went from a $250,000 a year annual budget deficit to a $23,000 surplus and "has so far raised $2.8 million dollars to build a new shelter." In the end, contributions climbed even higher and a state-of-the-art shelter was completed and now stands as a model for other communities.

Winograd gives details on how this was accomplished in a 20-page manual, "Building A No-Kill Community" and in some of the other publications shown to the left of this page. He left Tompkins in 2004 to form a no-kill consultation firm.
Following are some vignettes taken from his writings.
* * * * * * * * * * *
"What kind of shelter director should we hire? I believe that the best, most successful shelter directors around the county have no animal sheltering experience. Why? Because they are not schooled in the defeatist mentality that has thoroughly defined the soul of our nation's animal shelters for over a century. They have not adopted the excuses, they have not betrayed their obligations to the animals, they do not kill with impunity, they are not content to parrot the same old tired clichés, and promote the same old worthless programs without examining whether they are actually having an impact."
* * * * * * * * * * *
"In Tompkins County, we did it with a simple yet highly effective three-step process: (1) Stop the killing; (2) Stop the killing; (3) Stop the killing. I am not joking. No-kill starts as an act of will."
** * * * * * * * * * *
"Like so many shelters with animal control contracts, the TC SPCA had relied on the fiction that the only solution to pet overpopulation is the "blue [euthanizing] solution." Staff would shake their heads and continue to blame "irresponsible owners" for the fact that so many animals would go out the door in barrels rather than in the loving arms of families.

Like so many other shelters, the TC SPCA never once saw the killing as its own failure to find solutions, meet its real mandate to be an animal welfare organization, or live up to the very real but often ignored shelter credo that 'every life is precious.'"
* * * * * * * * * * *
"I developed a flurry of programs to increase the number of homes, reduce birthrates, rehabilitate injured animals, and keep animals with their loving, responsible caretakers.
Next, I approached every veterinarian in the community and asked, "How much will you charge me for spay/neuter and for treatments? Will you waive your office visits?"

I went down the list of what I thought we would need. I went to the local universities and asked, "What can you provide? Do you have PhDs who can look at my wacky dogs and tell me how to bring them back to normal behavior?"
We went to the media and said, "Can you showcase our available pets once a week on the local news?" Now, we're on the local TV news once a week, we're on the local radio station once a week, and we're in the local newspaper once a week. So at least three times a week, we're out there.
I contacted every church, every community group, and said, "Anytime you have an event, I'd like to be there and bring some pets who need homes." I didn't get any no's. Everybody said, 'That sounds great!'"
* * * * * * * * * * *
"Say you live in Anytown, USA. Your community shelters are killing 5,000 animals per year and you want to reduce that. Should you start a TNR program? Should you open the shelter on weekends to do more adoptions? What should you do? The number, 5,000, doesn't tell you anything in and of itself.

"It really depends on who is dying. If you actually crunch your numbers and categorize them, you can answer that question. So say, for example, of those 5,000: 2,000 are feral cats. 1,500 are dog with behavior problems. 1,000 are under aged kittens and puppies. 500 are sick or injured animals.

"Now we know something. We know that to save the 2,000 feral cats, staying open on weekends to do more adoptions won't help. We need a TNR program. For the 1,500 behavior dogs, we need dog behavior and rehabilitation. For the 1,000 under aged kittens and puppies, we need a public spay/neuter program and a foster care program for the shelter. And for the 500 sick or injured animals, we need medical intervention programs."
* * * * * * * * * * *